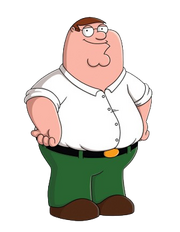 Peter Löwenbräu Griffin, Sr. is the protagonist of the show and title character. He's a man of Irish descent currently residing in Quahog, Rhode Island with his wife Lois Griffin. He was, however, born in Mexico, where his mother had tried unsuccessfully to abort him. According to "I Dream of Jesus", Peter attended Providence High School. Together, Peter and Lois have three children, Chris, Meg, and baby Stewie. After a mix up at a sperm bank, Peter also became the biological father of Bertram. In addition, he and Lois had a child named Peter Griffin Jr. who died when Peter shook him too much as revealed in "The Juice Is Loose". Out of pity he also adopted an intellectual talking dog named Brian who formerly lived on the street as a stray, an accepted fact in Brian's two adoption stories. In The Real Live Griffins he was portrayed by Tom Arnold.
Section heading
Edit
Write the first section of your page here.
Section heading
Edit
Write the second section of your page here.